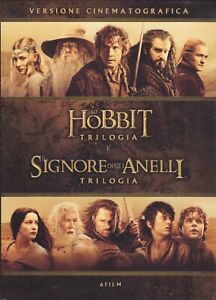 Il Signore degli Anelli (in inglese The Lord of the Rings) è una trilogia colossal fantasy co-prodotta, co-scritta e diretta del regista neozelandese Peter Jackson, basata sull'omonimo romanzo scritto da J. R. R. Tolkien. La saga è formata da Il Signore degli Anelli – La Compagnia dell'Anello (2001), Il Signore degli Anelli – Le due torri (2002) e Il Signore degli Anelli – Il ritorno del re (2003).
Considerato uno dei progetti più grandi e ambiziosi mai intrapresi nella storia del cinema, ha richiesto un budget complessivo di 281 milioni di dollari e otto anni di lavoro per essere realizzato per intero; le riprese di tutti e tre i film sono state girate simultaneamente e interamente in Nuova Zelanda, paese natale di Peter Jackson.[1][2] Ogni film della serie ha avuto anche edizioni speciali estese rilasciate in DVD un anno dopo l'uscita dei film nelle sale.
Ambientati nel mondo immaginario della Terra di Mezzo, i tre film seguono l'avventura degli hobbit Frodo Baggins (Elijah Wood) e Samvise Gamgee (Sean Astin) impegnati in una difficile missione per distruggere l'Unico Anello e quindi garantire l'annientamento del suo creatore, l'Oscuro Signore Sauron (Sala Baker). I due piccoli hobbit, saranno accompagnati a Mordor, nel Monte Fato (dove dovrà essere distrutto l'Anello) dalla creatura Gollum (Andy Serkis), un tempo portatrice dell'Unico Anello. Nel frattempo Aragorn (Viggo Mortensen), l'erede in esilio al trono di Gondor, Gandalf (Ian McKellen), Legolas (Orlando Bloom) e Gimli (John Rhys-Davies) dovranno unire e mobilitare i popoli Liberi della Terra di mezzo nella guerra contro gli eserciti di Sauron.