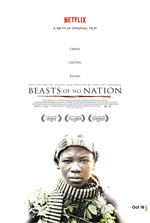 Un film di Cary Fukunaga. Con Idris Elba, Ama Abebrese, Richard Pepple, Abraham Attah, Opeyemi Fagbohungbe Titolo originale Beasts of No Nation. Drammatico, Ratings: Kids+13, durata 133 min. – USA 2015. MYMONETRO Beasts of No Nation





valutazione media: 3,50 su 1 recensione.
Da ultimo di una famiglia coesa, Agu passa ad essere solo nel giro di 10 minuti. Quando la guerra civile della sua nazione arriva al suo villaggio, sua madre riesce a mettersi in viaggio ma suo padre e suo fratello vengono massacrati, lui, in fuga non ha nulla nè sa dove andare fino a che non incontra un plotone. La milizia al soldo di uno dei molti partiti politici che lottano per il potere lo arruola tra le file dei suoi bambini soldato, lo arma e lo sfama, lo educa alla violenza, lo droga e lo condiziona. A capo di tutto c'è il carismatico Commandant, assieme ad Agu amici, coetanei e più adulti, un branco di esseri umani solitari che più diventano soldati più perdono contatto con la realtà.
Per andare in Africa a filmare la guerra, i bambini soldato, la disperazione, la trucidazione e la deriva mentale, Cary Fukunaga ha portato con sè tutto il cinema hollywoodiano migliore che ha elaborato il Vietnam. In un atto di trasferimento filmico è riuscito a parlare di qualcosa di molto lontano dall'orbita statunitense con l'armamentario simbolico usato in passato per raccontare la più americana delle storie, quella di come un paese intero ha perso fiducia nel proprio ruolo nel mondo di fronte ad una guerra assurda e violenta.
View full article »