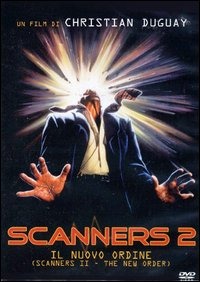 Un film di Christian Duguay. Con David Hewlett, Deborah Raffin, Yvan Ponton, Isabelle Mejias, Tom Butler. continua» Titolo originale Scanners II: The New Order. Horror, durata 100 min. – USA, Canada 1991.
Allo scopo di perfezionarsi nella professione di medico veterinario, il giovane David Kellum lascia lo Iowa dove è cresciuto e si trasferisce in città. Una sera si trova incidentalmente coinvolto in una rapina nel supermercato dove sta facendo degli acquisti e per evitare un omicidio è costretto a rivelare i suoi poteri mentali. Il filmato della tv a circuito chiuso che ha registrato le sue facoltà di scanner interessa molto Forrester, ufficiale di polizia, che ne informa il dr. Morse. Questi è uno scienziato che tenta di assumere il controllo degli scanner, li cattura con l'aiuto della polizia e li tiene segregati e drogati nel suo Istituto di Ricerche Neurologiche. Gli scopi di Morse non sono umanitari: la droga che somministra agli scanners non ha soltanto lo scopo di preservarli dalla follia in cui cadrebbero a causa dell'altrimenti incontrollabile e caotico flusso dei pensieri umani, ma crea in loro una dipendenza che li rende schiavi. Essi dovranno servire a convincere l'amministrazione cittadina ad eleggere Forrester quale nuovo capo della polizia e poi costituiranno l'invincibile braccio armato del folle poliziotto, che parla già in pubblico del "nuovo ordine" che si appresta ad instaurare. Inseguito da Drak, un potente e spietato scanner messogli alle calcagna da Forrester, David non riuscirà ad evitare che il sicario colpisca i suoi genitori adottivi, ma apprenderà in extremis di essere il figlio di Cameron Vale, (il protagonista del film di Cronenberg) e di avere una sorella. Riuniti, i due giovani dovranno usare i loro poteri mentali per opporsi al complotto ed impedire che la città cada sotto il dominio di Morse e Forrester.
Pur avendo consentito a che questo primo sequel, ed i successivi, si riallacciassero alle tematiche del suo Scanners del 1981, David Cronenberg non ha voluto con essi alcun altro tipo di coinvolgimento diretto, evitando persino di rilasciare commenti ed esprimere opinioni sui film. Si tratta in effetti di pellicole che nulla hanno dei contenuti e dei simbolismi dell'opera del regista canadese, e che cercano consensi, se non il successo, attraverso dichiarate, esplicite parentele con il capostipite, del quale si limitano a riproporre gli aspetti e gli effetti più spettacolari. Gli altri sequel:Scanners III – The Takeover (1992)Scanner Cop (1993)Scanner Cop 2 (1994).