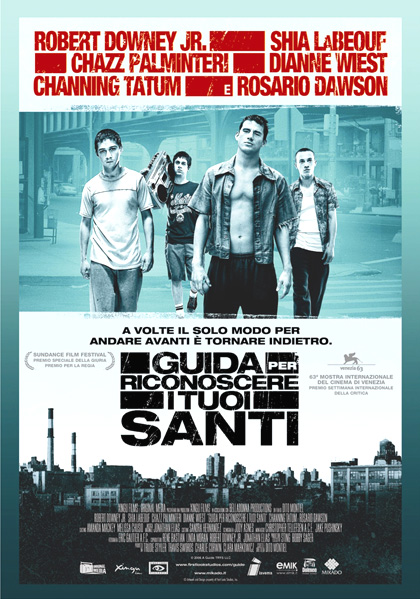 Un film di Dito Montiel. Con Robert Downey Jr., Shia LaBeouf, Chazz Palminteri, Dianne Wiest, Channing Tatum. Titolo originale A Guide to Recognizing Your Saints. Drammatico, durata 98 min. – USA 2006. – Mikado uscita venerdì 9 marzo 2007. MYMONETRO Guida per riconoscere i tuoi santi





valutazione media: 3,24 su 50 recensioni di critica, pubblico e dizionari.
Astoria, Queens, 1986. Manhattan, ombelico del mondo, è a pochi chilometri ma temporalmente ad anni luce di distanza. Dito vive con i suoi genitori e trascorre la giornata con i suoi amici di strada, fra droga, noia e microcriminalità. Un mondo chiuso, una sorta di ghetto in cui la società wasp americana sembra aver confinato italiani, portoricani, greci, un quartiere senza via di scampo che a un certo momento inizia a stare troppo stretto a Dito che decide così di partire per la California. Per tornare poi solo quindici anni più tardi, perché il padre è malato e per affrontare definitivamente il passato, con i suoi fantasmi e il suo fardello emotivo.
Folgorante opera prima di Dito Montiel, prima scrittore che regista: il film è infatti tratto dal suo omonimo romanzo autobiografico che, a conferma del fatto che il sogno americano probabilmente ancora esiste, un giorno è capitato nelle mani dell'attore Robert Downey Jr. che ne ha subito carpito le grandi potenzialità come sceneggiatura. Un ritratto schietto e insieme raccapricciante di una comunità di giovani allo sbando, un affresco corale senza riserve, che per la spontaneità e la fresca inventiva ha tutto il sapore del geniale esordio ma per la maturità e la consapevolezza registica rimanda più volte al coppoliano I ragazzi della 56° strada, alle varie inquadrature di strada di Martin Scorsese e anche alla vena più strettamente documentaristica del Fernando Meirelles di City of God.
Con un ritmo che sempre asseconda la diegesi filmica, senza niente concedere a facili patetismi, con una fotografia dialogante e protagonista, con una colonna sonora partecipata (con tanti brani cult del tipico pop eigthies), il film da spaccato di una società si fa racconto di una vita: e così viene mostrato il ritorno di Dito a casa, la sua umiltà, la sua forza nel far vedere le proprie fragilità e debolezze, il suo mettersi in discussione fino a ritrovare l'amore. Dei genitori e degli amici, quei "santi" del titolo abbandonati e non compresi in giovinezza.
A coronare una pellicola eccellente un cast altrettanto esemplare su cui spicca un Chazz Palminteri che finalmente esce dal consueto ruolo da caratterista e, svestendo i panni appunto del mafioso, indossa quelli di un padre dall'umanità commuovente.