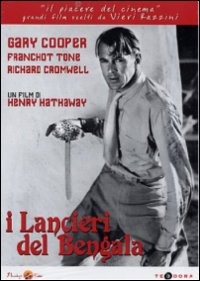 Un film di Henry Hathaway. Con Franchot Tone, Gary Cooper, Richard Barthelmess, Richard Cromwell Titolo originale The Lives of a Bengal Lancier. Avventura, b/n durata 109 min. – USA 1935. MYMONETRO I lancieri del Bengala 





 valutazione media: 2,84 su 4 recensioni di critica, pubblico e dizionari.
Un principe indiano vuole impadronirsi di un carico d'armi destinato agli inglesi. Servendosi di una bellissima donna rapisce il figlio del comandante al quale ingiunge, pena la vita del ragazzo, di svelare il percorso del convoglio. L'uomo non si lascia corrompere, ma il giovane sì. Due soldati, allora, entrano travestiti nella città nemica dove sono raccolte le armi e fanno esplodere il deposito.
« Contagious – Epidemia mortale – Maggie – dvdrip ita/eng subita Follie del Jazz – dvdrip ita »