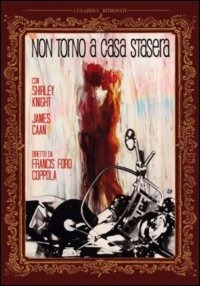 Un film di Francis Ford Coppola. Con Robert Duvall, James Caan, Shirley Knight, Marya Zimmet, Andrew Duncan Titolo originale The Rain People. Drammatico, durata 102 min. – USA 1969
Quando Natalie scopre di essere incinta, decide di scappare di casa lasciando un biglietto al marito in cui dichiara che per quella sera non tornerà. Una fuga senza meta, la cui unica coordinata è New York, il punto di partenza, e la direzione è il verso opposto alla sua stessa vita. Natalie si imbatte in un autostoppista che diventerà compagno di un viaggio che si prolunga di giorno in giorno. Scopre di aver a che fare con un ritardato, ma pur cercando di liberarsene non troverà il coraggio di abbandonarlo.
Dimenticando per un attimo l'ingenuo titolo italiano e partendo dal titolo originale, The Rain People, s'intuisce l'intenzione sottesa a quest'opera acerba di un ancor giovane Coppola. L'intestazione rivela la volontà di descrivere il turbamento di una coppia apparentemente felice e serena attraverso l'allegoria della pioggia, fenomeno atmosferico imprevisto che irrompe nella limpidezza di una vita solare.
Lo spettatore non sa nulla di questo idillio, ma lo percepisce dallo stupore dei genitori di lei per il gesto insensato della fuga – avvenuta proprio in un giorno di pioggia – e dall'incredulità del marito, rappresentato esclusivamente come una voce all'altro capo del telefono. Al fianco della protagonista si assiste così ad un road movie incentrato sulla crisi di coppia, l'incomunicabilità e la paura delle proprie responsabilità. Ma il tutto rimane ingabbiato nello schermo: Coppola non riesce a trasmettere allo spettatore queste sensazioni, fotografando gli eventi senza infondergli anima.
L'incontro con il fortuito compagno di viaggio ritardato (un James Caan scarsamente calato nel ruolo) è poco credibile, dato che Natalie si renderà conto della condizione di questo ex campione di rugby solo quando saranno altri a farglielo notare. Di rilievo la caratterizzazione della società americana, i rapidi flashback inseriti a supporto del flusso narrativo, ma sono molti i punti incerti di questo film dal finale sospeso. Un soggetto a tratti ingenuo – Natalie scappa di casa senza bagaglio ma ha un cambio d'abito per ogni giornata – in cui la cura formale dei capolavori firmati dal grande profeta del cinema – Apocalypse Now piuttosto che Dracula di Bram Stoker – è ancora lontana.
« La Terra di Dio – God's Own Country – dvdrip ita/eng subita/eng Peggy Sue si è sposata – Peggy Sue got married – dvdrip ita/eng subita/eng »