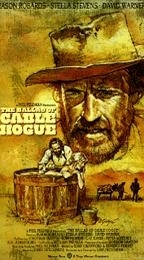 Un film di Sam Peckinpah. Con David Warner, Jason Robards, Stella Stevens, Slim Pickens. Titolo originale The Ballad of Cable Hogue. Western, durata 121′ min. – USA 1970. MYMONETRO La ballata di Cable Hogue





valutazione media: 3,50 su 4 recensioni di critica, pubblico e dizionari.
Un anziano cercatore d'oro conosce una prostituta, scopre una sorgente d'acqua e il profitto. È forse _ con I compari di R. Altman _ l'operazione più lucidamente e criticamente dissacratrice che un regista americano abbia compiuto nei confronti dell'epopea western. Impiegando in chiave grottesca gli schemi del western e della mitologia del "self-made man", Peckinpah fa la radiografia della loro ossatura capitalistica, facendo emergere l'anima reale del pionierismo e la realtà sottesa alla leggenda.
« Ballando ballando – dvdrip ita Joint Security Area – dvdrip kor subita + bdrip 720p kor »