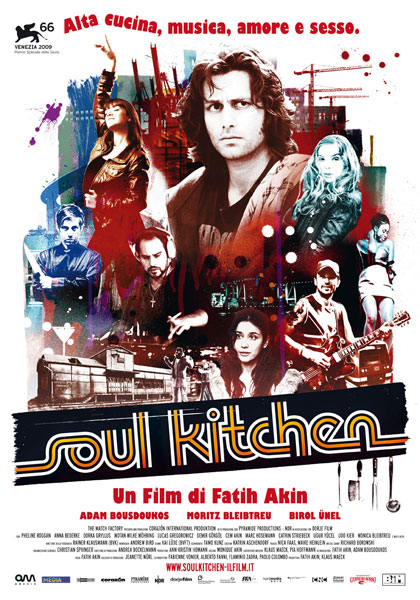 Un film di Fatih Akin. Con Adam Bousdoukos, Moritz Bleibtreu, Birol Ünel, Anna Bederke, Pheline Roggan. Commedia, Ratings: Kids+13, durata 99 min. – Germania 2009. – Bim uscita venerdì 8 gennaio 2010. MYMONETRO Soul Kitchen





valutazione media: 3,42 su 62 recensioni di critica, pubblico e dizionari.
Ad Amburgo, un cuoco di origine greca, Zinos, gestisce un infimo ristorante denominato Soul Kitchen. La clientela abituale sono i rozzi abitanti della periferia, interessati solo a tracannare birra e ingurgitare piatti surgelati o preconfezionati. Dentro e fuori dal Soul Kitchen ruota tutto il microuniverso di Zinos e relativi problemi: l'ambiziosa e viziata fidanzata Nadine è una giornalista rampante in partenza per la Cina, il fratello Illias un ladruncolo in libertà vigilata con il vizio del gioco, la cameriera Lucia è aspirante artista che vive in un appartamento occupato abusivamente e un vecchio compagno di scuola, Neumann, è disposto a tutto pur di comprare il locale e rilevarne il terreno. Un'ernia al disco improvvisa impone a Zinos delle sedute di fisioterapia e gli inibisce l'uso cucina, così che viene assunto un nuovo cuoco esperto di haute cuisine che, dopo uno scetticismo iniziale, trasforma il ristorante in un locale molto in voga capace di offrire buon cibo e musica soul.
Fatih Akin è un abile deejay del mondo del cinema, un giovane autore che ha saputo costruire un suo linguaggio melodico a partire da un'antologia di stili della New Hollywood di Scorsese, Schlesinger e Bob Rafelson. Questa eredità del cinema americano moderno, con la quale aveva finora raccontato i margini di una società multiculturale in pieno dissidio, pervade anche nell'atmosfera conviviale e disinvolta di Soul Kitchen. Cimentandosi con una vera commedia edificante, il giovane regista turco-tedesco mette da parte il tema del viaggio e delega il percorso di emancipazione sociale e di ricerca delle origini, alla musica (come nel documentario Crossing the Bridge) e all'elogio dell'edonismo.
Akin pone attenzione ai corpi e ai loro bisogni primari: dal cibo al sesso, dall'alcool alla danza (passando per il mal di schiena), così che i suoi personaggi, liberati dalla necessità di affrancarsi dal proprio retaggio culturale, agiscono nel nome di un puro principio di piacere. Allo stesso modo, punta all'occhio e al ventre dello spettatore: costruisce il suo film come un piatto sofisticato di nouvelle cuisine, o meglio, come una playlist di musica accattivante, facendo molta attenzione a creare mediante una serie di gag fisiche una sinergia fra movimenti dei personaggi, movimenti di macchina e ritmo dei brani della colonna sonora. È una strategia molto furba e molto ricercata, elaborata da un regista che ha già compreso le tendenze del nuovo cinema della post-globalizzazione (vedi The Millionaire): le storie che intrecciano società multietniche, una regia dinamica, buona musica e un lieto fine sono destinate a vendere (e incassare) in tutto il mondo.
« Un Fantastico Via Vai – dvdrip ita Gente di Rispetto – dvdrip ita »