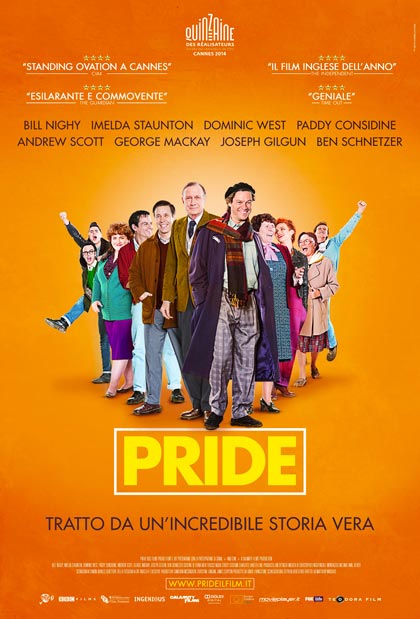 Regia di Matthew Warchus. Un film Da vedere 2014 con Bill Nighy, Imelda Staunton, Dominic West, Paddy Considine, George MacKay, Joseph Gilgun. Cast completo Genere Drammatico – Gran Bretagna, 2014, durata 120 minuti. Uscita cinema giovedì 11 dicembre 2014 distribuito da Teodora Film. Consigli per la visione di bambini e ragazzi: +13 – MYmonetro 3,37 su 39 recensioni tra critica, pubblico e dizionari.
Londra, 1984. Joe partecipa tra mille timidezze e ritrosie al Gay Pride e si unisce alla frangia più politicizzata del corteo, già proiettata sulla successiva battaglia in difesa dei minatori in sciopero contro i tagli della Thatcher. Guidati dal giovane Mark, i LGSM (Lesbians and Gays Support The Miners) cominciano il loro difficile percorso di protesta, che li conduce in Galles, nella remota comunità di Dulais. Superata l'iniziale ritrosia, tra attivisti gay e minatori nascerà una sincera amicizia e un'incrollabile solidarietà umana.
Uno spunto narrativo dal potenziale micidiale che ha sorprendentemente atteso trent'anni prima di essere trasposto su grande schermo. Matthew Warchus – il sottovalutato Simpatico e un notevole curriculum teatrale alle spalle – raccoglie la sfida, forzando la verità storica (la solidarietà era molto più articolata e diversificata, non coinvolgeva solo una comunità gallese e un gruppo di attivsti londinese) quel tanto che basta per rendere Pride un possibile campione d'incassi. Di quelli destinati in egual misura a essere amati e detestati, per la capacità di concentrare cliché e situazioni già viste in anni di cinema popolare britannico, con in mente solo il grande pubblico privo di pretese intellettuali. 
Chi ha adorato i balletti di Full Monty, il sogno di Billy Elliot e le tragicomiche vicende di Trainspotting si ritroverà tra mura amiche, dove il cinico e smaliziato cinefilo difficilmente arriverà ai titoli di coda di Pride. Warchus rinuncia da subito allo stupore, sceglie l'alveo confortevole del genere codificato e lo sfrutta al massimo, puntando su un cast adeguatamente variegato (il Dominic West di The Wire a fianco di un sorprendente Paddy Considine) e giocando la propria vis comica, così come i climax drammatici, sull'accettazione della "diversità", sia essa abitudine sessuale, estrazione proletaria o semplice provenienza gallese.
Una sceneggiatura accorta, che inserisce quasi subito il pilota automatico e pigia i tasti emozionalmente giusti, senza concedersi sorprese: i traumi, i punti di svolta del plot, sono quelli ampiamente previsti. La diffidenza iniziale degli operai si tramuta in accoglienza gioiosa, specie quando i gay rivelano la loro naturale attitudine al ballo (cliché quasi imperdonabile, di cui Warchus si nutre abbondantemente), e i percorsi individuali dei protagonisti seguono il loro iter naturale, con l'immancabile figlio che trova il coraggio di fare coming out con i propri genitori e pagarne le conseguenze. Minimo lo spazio dedicato alla contestualizzazione storica nell'era Thatcher – l'inizio della fine per il Secondario e per la classe operaia – benché lo spettro dell'Aids incomba come un inquietante monito contro la libertà dei costumi sessuali.
Astutamente tenuta in secondo piano la disfatta dei minatori, in favore di una marcia comune in occasione del gay pride che sa di utopia rivoluzionaria consolatoria almeno quanto l'epilogo recente de I miserabili.
« Una Separazione – dvdrip ita Almost famous – Quasi famosi – dvdrip ita »