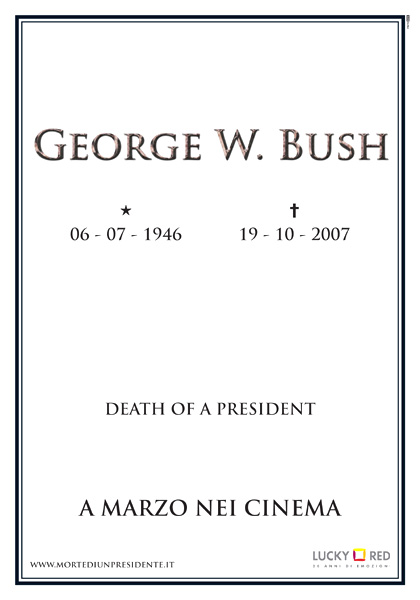 Un film di Gabriel Range. Con Hend Ayoub, Brian Boland, Becky Ann Baker, Robert Mangiardi, Jay Patterson, Jay Whittaker Titolo originale Death of a President. Thriller, durata 90 min. – Gran Bretagna 2006. – Lucky Red uscita venerdì 16 marzo 2007. MYMONETRO Death of a President (Morte di un presidente)





valutazione media: 2,50 su 34 recensioni di critica, pubblico e dizionari.
19 ottobre 2007. Il Presidente degli Stati Uniti George W. Bush è in visita a Chicago dove tiene un discorso all'hotel Sheraton. In città è in corso un'imponente manifestazione contro la sua politica in Iraq. Non mancano scontri con la polizia. Dopo aver partecipato all'incontro in suo onore, Bush viene colpito da colpi d'arma da fuoco esplosi da un attentatore che riesce a fuggire approfittando della confusione. Le indagini, immediatamente avviate, si indirizzano su un cittadino di origine siriana che viene incriminato forzando la mano sulle prove a suo carico. L'uomo viene condannato ma…
Gabriel Range realizza un mockumentary, un finto documentario su un fatto non accaduto, scatenando polemiche a non finire. Si tratta di incitazione all'omicidio di un Capo di Stato? Siamo dinanzi a un innocuo esercizio cinematografico con diritto di critica incorporato (a una delle Amministrazioni più disastrose della storia della democrazia americana)? O si tratta di un'operazione riuscita a metà? Che il film provocasse critiche era già scritto nel suo DNA originario e Range non ne fa mistero. Che invece pochissimi, sulla stampa statunitense, guardassero il cielo al posto del dito che lo indica è un fatto che stupisce.
Perché da un punto di vista narrativo la 'futura' uccisione di Bush lascia piuttosto insoddisfatti. Apprezzato il gioco iniziale sul 'come' l'evento si va a verificare, si perde rapidamente l'interesse perché poco importa chi sia o meno l'esecutore di un omicidio mai avvenuto. Si potrebbe dire che l'interesse invece c'è se si guarda a tutte le forzature a cui le prove vengono sottoposte al fine di incastrare un innocente. Ma dopo le inesistenti armi di distruzione di massa, neanche i bambini alle elementari hanno dubbi sull'esistenza di manipolazioni propagandistiche e a effetto. Se poi si pensa a episodi come quello di un pakistano ventisettenne trovato ad aggirarsi attorno a uno stabilimento per il trattamento delle acque sul fiume Hudson dopo l'11 settembre e che si è fatto tre anni di prigione da innocente (questo non è citato nel film ma è accaduto davvero) non ci si stupisce più di nulla. Molto più interessante sarebbe stato immaginare un futuro senza Bush e con un tipo come Cheney alla presidenza. Ma questo a Range non importa.
Ciò che invece, al di là delle apparenze scandalistiche, sembra intrigarlo di più (e che meno si è sottolineato) è la manipolazione dei documenti, la loro interpolazione con false testimonianze che sembrino assolutamente veridiche. È in questo che il regista offre davvero l'occasione per riflettere. Lo sapevamo già ma d'ora in avanti di fronte a qualsiasi documentario (anche se fosse sull'uccisione di Lincoln) e anche agli 'speciali' sull'attualità varrà un consiglio: diffidate, gente, diffidate. Potrebbe esserci un Grange alla regia.
« Guerra Indiana – tvrip ita Dawn Anna – Più Forte Del Destino – dvdrip ita »