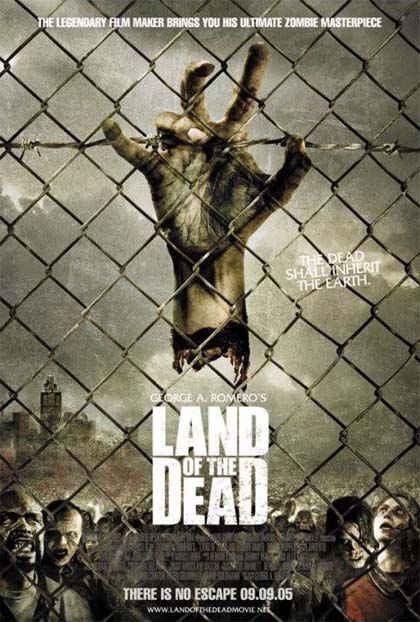 Un film di George A. Romero. Con Asia Argento, Dennis Hopper, John Leguizamo, Simon Pegg, Simon Baker. Titolo originale Land of the Dead. Horror, durata 93 min. – Canada, Francia, USA 2005. uscita venerdì 15 luglio 2005. MYMONETRO La terra dei morti viventi





valutazione media: 2,65 su 40 recensioni di critica, pubblico e dizionari.
Romero, colui che attraverso una figura irreale, lo zombie, aveva negli anni '70 demolito certezze e instillato dubbi più che concreti, torna a criticare aspramente la civiltà moderna con un film romanticamente crepuscolare e ben riuscito, per quanto non privo di insospettabili difetti.
Che Land of the Dead sia un film politico è palese: meno palese (e prevedibile) è il fatto che sia "solo" un film politico. La trama: i morti viventi vagano in una terra disabitata, mentre gli esseri umani si sono rifugiati in una città-fortezza per poter continuare a vivere le proprie vite. Ma al di fuori delle mura l'esercito dei morti viventi sta diventando sempre più numeroso
Tensione, suspance e colpi di scena sono quasi completamente assenti e poco riescono le ottime caratterizzazioni dei personaggi a supplire alle mancanze di una sceneggiatura che, se presa come pamphlet sociale risulta essere perfetta (e condivisibile, almeno da un punto di vista proletario), mostra invece le corde sia come elemento portante di uno zombie-movie classico, che come base per un film capace di regalare emozioni forti.
Romero è ancora capace di grandi suggestioni e immaginifiche trovate (i fuochi d'artificio la cui visione stordisce e ammalia per un attimo le menti ottenebrate degli zombie), ma oggettivamente qui è poco a suo agio con l'azione vera e propria. Non c'è apparizione zombesca che non appaia telefonata, non c'è personaggio che non abbia già scritto in faccia il suo destino fin dalla prima inquadratura. Sembra quasi che, troppo concentrato sull'inserire messaggi e intra-lettura nella pellicola, Romero si sia scordato la parte relativa all'intrattenimento.
L'America, che ha sostenuto ben poco il film, è distante e, probabilmente, lo è anche il resto del mondo cinematografico e non.
C'è ancora posto per il cinema di Romero nel 2005?
Forse, o forse no, sta di fatto che La Terra dei Morti Viventi è un bel film, anche se la sensazione dominante è che, anche per gli zombie, dopo notti, albe e giorni, sia arrivato davvero il tramonto.
« Amore e Rabbia – dvdrip ita Cold Comfort Farm – dvdrip ita/eng »