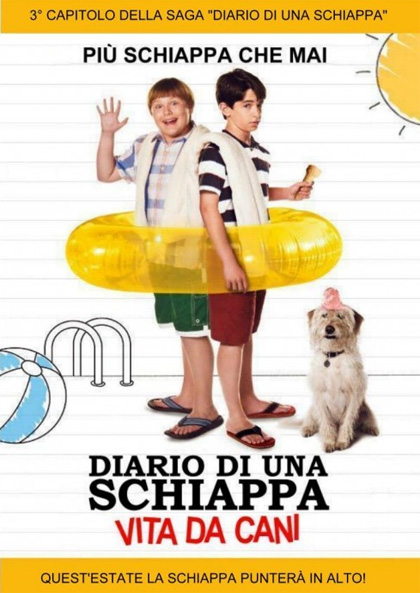 Regia di David Bowers. Un film con Zachary Gordon, Robert Capron, Elise Gatien, Karan Brar, Laine MacNeil. Cast completo Titolo originale: Diary of a Wimpy Kid: Dog Days. Genere Commedia – USA, Canada, 2012, durata 94 minuti. Uscita cinema venerdì 3 agosto 2012 distribuito da 20th Century Fox. Consigli per la visione di bambini e ragazzi: Film per tutti – MYmonetro 2,84 su 4 recensioni tra critica, pubblico e dizionari.
Terza puntata delle avventure del giovane Greg Heffley, creatura nata dalla penna di Jeff Kinney. Questa volta il ragazzo si trova ad affrontare le peripezie di un'estate carica di aspettative ma anche di rischi. Il ragazzo deve affrontare i pericoli di un padre desideroso di approfondire il rapporto con il proprio figlio, di un fratello maggiore che lo costringe a tutto pur di conquistare la ragazza per cui ha una cotta, ma soprattutto il timore di esporsi di fronte alla bella Holly, per cui Greg prova un sentimento che va ben oltre l'amicizia. Tra brutte figure, genitori poco comprensivi, peripezie di ogni tipo, Greg dovrà affrontare i tre mesi più lunghi e imbarazzanti della sua vita.
Considerato che si tratta di un prodotto espressamente mirato ai più piccoli, tutto il progetto dedicato a "Diary of a Wimpy Kid", dal libro di Kinney alle tre riduzioni cinematografiche fatte in questi ultimi anni, merita degna segnalazione. La freschezza degli argomenti proposti, la capacità di far passare messaggi edificanti ed educativi, la delicatezza nel costruire tutti i personaggi della famiglia Heffley, sono qualità che si elevano rispetto alla media di questo tipo di produzioni dedicate al pubblico più giovane. In questo caso specifico il film diretto da David Bowers, già dietro la macchina da presa per l'episodio precedente, continua sulla scia settata dall'originale e mette in scena le disavventure del piccolo protagonista puntando sulla semplicità e sulla simpatia degli attori. Zachary Gordon nel ruolo principale e Devon Bostick in quello di suo fratello maggiore Rodrick sono quelli che dimostrano un affiatamento maggiore e un'innata capacità di divertire e divertirsi. Tra momenti più comici e situazioni invece maggiormente tenere, Diario di una schiappa 3 – Vita da cani si presenta come un lungometraggio piuttosto riuscito, che non propone uno spettacolo particolarmente appariscente ma tende invece giustamente a rispettare le coordinate e le idee che il lavoro di Kinney proponeva ai lettori. Spiritoso, gentile nei toni, efficace nel mostrare al pubblico più giovane messaggi importanti come la solidarietà, la coerenza e l'attaccamento al gruppo familiare, Diario di una schiappa 3 – Vita da cani è un lungometraggio orchestrato con discreta sensibilità, preciso e piuttosto coinvolgente nelle dinamiche sentimentali e psicologiche dei protagonisti. Un buon prodotto di genere, perfetto per passare un pomeriggio in allegria con figli o nipotini.
« Diario di una Schiappa 2 – dvdrip ita C'era una volta in America – Once upon a Time in America – Edizione integrale – dvdrip ita + bdrip 720p ita/eng subita/eng »