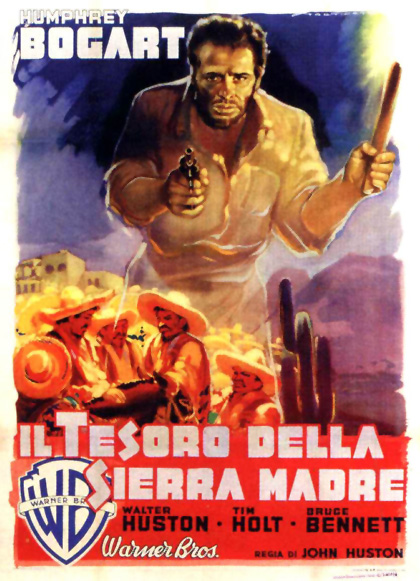 Un film di John Huston. Con Humphrey Bogart, Bruce Bennett, Tim Holt, John Huston, Walter Huston. Titolo originale The Treasure of the Sierra Madre. Avventura, b/n durata 124′ min. – USA 1948. MYMONETRO Il tesoro della Sierra Madre





valutazione media: 4,24 su 14 recensioni di critica, pubblico e dizionari.
Tre avventurieri alla ricerca di una vena aurifera nella Sierra Madre. La trovano, ma nel viaggio di ritorno s'uccidono tra loro. E l'oro? Via col vento. 3 Oscar in famiglia: 2 a John (regia, sceneggiatura, dal romanzo, 1927, di B. Traven) e 1 al babbo Walter (attore non protagonista). Film hustoniano per eccellenza, ma non uno dei suoi migliori. Come i falsi capolavori, invecchia male: un sovrappiù di astuzia narrativa, un certo accademismo figurativo, una bravura un po' verniciata. E Bogart che si prepara al Queeg di L'ammutinamento del Caine. B. Traven è lo pseudonimo di Berick Traven Torsvan, scrittore statunitense di lingua tedesca dalla vita avventurosa e avvolta nel mistero.
« 5 per l'Inferno – dvdrip ita Gli Uomini, che Mascalzoni – dvdrip ita »