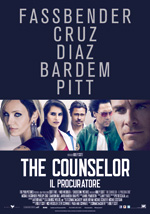 Un film di Ridley Scott. Con Michael Fassbender, Penelope Cruz, Cameron Diaz, Javier Bardem, Brad Pitt. Titolo originale The Counselor. Drammatico, durata 111 min. – USA, Gran Bretagna 2013. – 20th Century Fox uscita giovedì 16 gennaio 2014. MYMONETRO The Counselor – Il Procuratore





valutazione media: 2,23 su 107 recensioni di critica, pubblico e dizionari.
A Juarez tre affaristi della malavita e un avvocato implicato nei traffici del cartello della droga locale subiscono gli effetti del furto di una partita di droga. Mentre i signori della malavita locale sono a loro agio con i meccanismi di una vita in cui la morte è un'opzione che si può realizzare da un momento all'altro, l'avvocato vive e ama come una persona normale, senza curarsi dei rischi della sua professione. Per sua sfortuna coincidenza vuole che in passato abbia avuto tra i suoi clienti proprio il responsabile del furto, di conseguenza lui e tutti quelli a lui vicini sono diventati il prossimo obiettivo della repressione operata dal cartello.
La prima sceneggiatura originale di Cormac McCarthy non poteva finire in mani migliori di quelle di uno dei più grandi collettori di talenti del cinema. Completamente nascosto dietro il verbosissimo script, Scott riesce nel doppio movimento di rispettare la parola nel momento in cui viene messa in immagini e riuscire, attraverso la messa in scena, a creare l'atmosfera migliore per un film dal villain invisibile che incombe sui protagonisti come la personificazione stessa del destino. In una storia in cui solo la morte ha un senso e tutto il resto è assurdità, iperbole sessuale e scene stranianti che lasciano di stucco gli stessi personaggi al pari del pubblico, McCarthy mostra come la cosa peggiore che possa esistere sia la volontà di chi non accetta il caos del mondo: un cartello sanguinario che gioca con i cadaveri con il massimo disinteresse per la vita e che, come spiega Brad Pitt: "Non è che non credano nelle coincidenze, sanno che esistono, solo non ne hanno mai vista una".
In questo film che appare tanto dello scrittore di The road e Non è un paese per vecchi (nei personaggi, nell'assenza di senso e tantomeno di giustizia in un mondo in cui l'unica cosa tangibile e seria pare essere l'efferatezza della morte), quanto di Ridley Scott (nella scelta di luci, colori, montaggio, interni e abbigliamento il più possibile splendidi e raffinati da usare in opposizione a quel che si dice e succede), esiste un senso profondo di terrore che lo avvicina paradossalmente a territori con i quali non dovrebbe avere nulla a che vedere, ovvero quelli dell'horror. La maniera in cui aleggia nei discorsi, nel terrore delle espressioni e nella rievocazione di agghiaccianti imprese precedenti "il cartello", entità che non vediamo mai nè si manifesta direttamente se non in corrispondenza della morte, dona a The counselor un tono unico che gonfia di senso i dialoghi, impedendogli di essere sterile esibizione di scrittura e recitazione. Tale è l'abilità nel costruire di minaccia in minaccia, di aneddoto in aneddoto, un mondo a parte, invisibile a tutti se non a chi è minacciato di morte e in cui tutto è possibile, che alla fine, in controtendenza rispetto all'abitudine didascalica del cinema hollywoodiano, Ridley Scott può anche permettersi il lusso di "non mostrare". Non ci sarà bisogno di guardare il contenuto del DVD che viene recapitato all'avvocato, l'atmosfera disseminata in tutto il film tra interni moderni, hotel di lusso, bestie feroci lanciate nel deserto e racconti terrificanti ha già lavorato a sufficienza e ciò che si intuisce è peggio di qualsiasi visione.
In questo senso, in una galleria di personaggi esagerati e non sempre riusciti che girano intorno all'unico normale (considerato poco più di un'idiota), Cameron Diaz viene caricata con l'incombenza maggiore, quella di dar credibilità al carattere più paradossale di tutti. La maniera in cui riesce nell'impresa di rendere umano l'incredibile ha del formidabile, la sua donna-ghepardo dalla spaccata formidabile permea il film di quella sostanza che invece sfugge sempre al protagonista (Michael Fassbender). A fronte di tutti i dialoghi vacui e ricercati, ordinari e minacciosi anche quando si parla di ordinazioni al ristorante, la sua famelica affarista giunge con un pugno di sguardi alla meta del film: affermare che l'unica verità incontrovertibile del mondo è la sua assenza di senso, coerenza e giustizia di fronte alla vita umana.