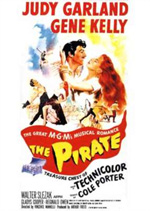 Un film di Vincente Minnelli. Con Reginald Owen, Walter Slezak, Judy Garland, Gene Kelly, The Nicholas Brothers. Titolo originale The pirate. Musical, durata 102′ min. – USA 1947. MYMONETRO Il pirata





valutazione media: 3,50 su 7 recensioni di critica, pubblico e dizionari.
Sulle frizzanti musiche di Cole Porter si svolge la storia di un pirata che si finge governatore, di un attore che si finge pirata e di una ragazza che vive sognando il mare, ama il pirata come un mito e poi sposa l'attore. Uscito sui nostri schermi con ben 32 anni di ritardo, il film è l'adattamento di una commedia (1942) di S.N. Behrman piuttosto insignificante. Kelly e Garland si scatenano in una cornice scenografica eccentrica e raffinata. Almeno 3 sequenze di balletto memorabili per l'impiego dello spazio: l'esibizione nella piazza di Puerto Sebastian, "Mack the Black" e "Be a Clown" che riassume la filosofia del film.