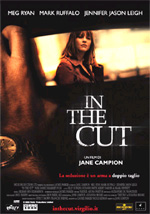 Un film di Jane Campion. Con Meg Ryan, Mark Ruffalo, Kevin Bacon, Jennifer Jason Leigh Thriller, durata 120 min. – USA 2003. MYMONETRO In The Cut





valutazione media: 3,12 su 24 recensioni di critica, pubblico e dizionari.
Sciagurato esempio di come non realizzare un thriller erotico, In The Cut, basato sul romanzo best seller di Susanna Moore, rappresenta il nadir delle produzioni cinematografiche, di quello che, si può affermare con certezza, essere il peggior Natale filmico degli ultimi anni. Privo di trama, costruzione dei personaggi e spessore drammaturgico, il film sembra montato ad arte solo per creare un risibile effetto di attesa per la prova di Meg Ryan, finalmente, anzi, troppo tardi, slegata al cliché di commediante romantica e sognatrice. Purtroppo mai come in questo caso, l'espressione "tanto rumore per nulla", è veritiera. La tanto strombazzata performance "hard" di Meg Ryan si riduce ad una squallida scena in penombra, durante la quale l'attrice mostra le sue grazie al bovino e pelossisimo Ruffalo, altra macchietta inventata da una critica compiacente. Tutto in In The Cut gira male, dai dialoghi demenzialmente misogini alle prestazioni di tutti gli interpreti, ad una regia piatta e sciatta, nonché incomprensibilmente incapace di cogliere gli aspetti sensuali e malati che questa vicenda poteva permettere di approfondire. I tempi di Lezioni di Piano sono passati da un pezzo.
Se dal punto di vista erotico il film risulta scadente, ancora peggio, e questa è la vera disgrazia, è l'aspetto thriller dello stesso. Finalmente (sic!) abbiamo la dimostrazione palese che per scrivere una sceneggiatura, non serve dare un senso logico o illogico a quello che si rappresenta, basta lasciare che la storia proceda da sola, alla deriva. In the Cut mostra agli allibiti ed inorriditi spettatori un cattivo senza ragione, una serie di delitti senza movente, un finale posticcio e memorabile solo per la sua agghiacciante bruttezza e faciloneria. Che la Campion avesse imboccato una strada sbagliata, si era notato fin dai tempi di Ritratto di Signora e di Holy Smoke, ma era impensabile che la corsa verso il baratro diventasse così frenetica e purtroppo inarrestabile. A conti fatti l'unico aspetto positivo di In the Cut è la fotografia di Dion Beebe, giustamente livida e capace di descrivere e rappresentare in modo molto efficace il degrado morale,etico ed estetico dei protagonisti e della città che fa da sfondo alla storia, una irriconoscibile e ostile New York.
« Il Grande Coltello – dvdrip ita L'ultimo Metrò – dvdrip ita »