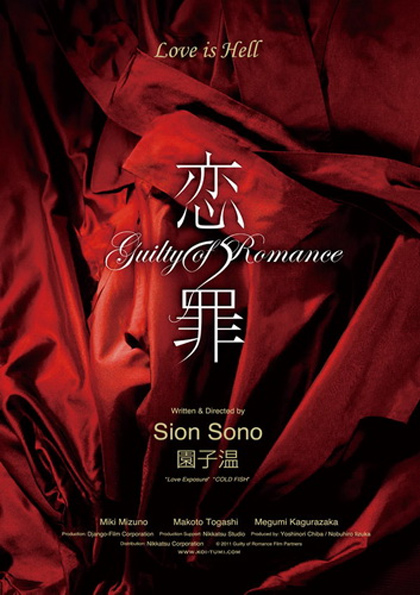 Un film di Sion Sono. Con Megumi Kagurazaka, Makoto Togashi, Miki Mizuno, Kanji Tsuda, Ryo Iwamatsu. Titolo originale Koi No Tsumi. Drammatico, durata 143 min. – Giappone 2011. – VM 18 – MYMONETRO Guilty of Romance





valutazione media: 3,50 su 2 recensioni di critica, pubblico e dizionari.
Nel quartiere dei love hotel di Tokyo, vengono rinvenuti due corpi. Indagando sulle persone scomparse, la detective Kazuko Yoshida si sofferma su due donne: Izumi, moglie impeccabile di un affermato scrittore e Mitsuko, docente di Letteratura all'università.
Ancora una volta Son Siono racconta l'atroce ambiguità della condizione umana nel Giappone contemporaneo, il disagio di un'intera società e la ricerca di un'impossibile catarsi, l'isolamento e la solitudine che si esprimono nella fuga nella prostituzione. Come in Suicide Club (2001), In Noriko's Dinner Table (2005) in Love Exposure (2008) o nel più recente Cold Fish, la risposta all'alienazione è sempre paradossale.
Guilty of Romance sfodera da subito i toni dell'incubo con una brutale ferocia. Percorsi alieni, oscuri e deformi si generano nel seno di un Paese in cui accade troppo poco, in una società che prevede che tutto sia precostituito dall'inizio. Il Giappone è il sepolcro imbiancato suggellato dall'algida espressione della testa di un manichino che al suo interno marcisce e pullula di vermi; uno Stato che ha ingessato la parola e mutilato l'azione. Il castello agognato, ripetuta citazione kafkiana, rimane distante e inaccessibile. La ricerca di un senso sfocia nella negazione di un senso, non vi è percorso né volontà di cammino, poiché non esiste una destinazione.
La pars destruens ha allora il sopravvento e la mercificazione del corpo assume una connotazione assoluta. Gli ambienti sono squallidi, lugubri, semioscuri. Non c'è senso di colpa, non c'è malinconia ma la pellicola ne è pervasa. Nessuno attende l'amore. Nessuno rimpiange ciò che è perduto. L'ordine esterno è metodicamente distrutto in un individualismo aggressivo ed esasperato. Il desiderio ultimo diviene il silenzio (nella citazione ostinata di un verso 'Non avrei mai dovuto imparare a parlare'). Sion Sono porta alle estreme conseguenze il cinema di Mizoguchi che aveva affrontato il tema della soggezione della donna alle regole del pregiudizio e del potere e le sue protagonisti femminili sono dirette discendenti di O-Haru, la donna galante.
Mentre in Izumi agiscono pulsioni inconsce trasgressive che sfociano nell'immagine di uno specchio sul quale riflettere un'identità diversa, in Mitzuko non vi è nemmeno più senso di ripicca o rivalsa, ma la crudele constatazione dell'impossibilità dell'amore. Il suo prostituirsi non è ripiego, né trasgressione, ma scelta consapevole di palesare e vivere il lato oscuro, un compimento finale che esprime nei suoi amplessi grandguignoleschi, in risa isteriche e perverse, nell'indecente compiacimento di un'estrema lascivia o di pretesa aggressiva di un compenso. Sì, perché l'unica cosa che possiede valore, in un mondo dove la comunicazione è assente, è il corpo. La prestazione – cinica, indecente, sadica – ha un costo. La parola non è nulla se non diviene carne, se non diviene corpo. E, mentre il mondo inorridisce, recidendo ed estirpando il suo lato oscuro, il mistero rovesciato del verbum caro factum est, diviene la risposta nichilista all'alienazione.
« Il Sospetto – dvdrip ita Melancholia – bdrip m720p ita/eng subita/eng »