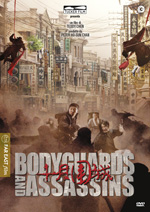 Un film di Teddy Chan. Con Donnie Yen, Leon Lai, Nicholas Tse, Jun Hu, Tony Leung Ka Fai.Titolo originale Shi yue wei cheng. Azione, durata 139 min. – Cina, Hong Kong 2009. MYMONETRO Bodyguards and Assassins





valutazione media: 3,17 su 4 recensioni di critica, pubblico e dizionari.
Per gustare al meglio Bodyguards and Assassins occorre lasciare da parte qualunque pretesa di verosimiglianza nella vicenda del Dr. Sun Yat-sen, fondatore del Kuomintang e fautore della fine dell'Impero Cinese. Come già per Once upon a Time in China di Tsui Hark, la vicenda storica è consapevolmente stravolta e diviene quasi un plot secondario rispetto alla messinscena spettacolare di scontri di arti marziali e all'esibizione trionfante di un cast all star.
Tipica produzione targata Peter Chan, con regia affidata a Teddy Chan (Downtown Torpedoes, Twenty Something), per un blockbuster che si prende quasi metà del tempo a disposizione per introdurre la pletora di personaggi, corrispondente ad altrettante star del cinema di Hong Kong. Tony Leung Kar-fai è il rivoluzionario (rivoluzione democratica del Kuomintang, ma pare in tutto e per tutto un prototipo di intellettuale maoista), Simon Yam il suo braccio armato, Eric Tsang il capo corrotto della polizia, Donnie Yen un mercenario allo sbando, Nicholas Tse un portantino idealista, Leon Lai un improbabile maestro di spada ridotto a mendicante e Hu Jun un villain implacabile. E non è che una parte delle molteplici – troppe, in verità – caratterizzazioni di un film che decolla davvero quando viene gettata l'esca dell'arrivo in città del Dr. Sun e assassini e guardie del corpo si fronteggiano in singolar tenzone. Una mattanza in cui la parte del leone inevitabilmente la recitano i duelli che vedono protagonista Donnie Yen, forte di uno stile di kung fu a tutt'oggi impareggiabile.
La caratterizzazione dei personaggi talora si dimostra riuscita – come nel caso del tycoon interpretato da Wang Xueqi, che passa da semi-consapevole finanziatore della rivoluzione a simbolo di libertà contro l'oppressione – mentre altrove sacrifica l'approfondimento psicologico sull'altare del ritmo e delle esigenze action, prediligendo il bozzetto caricaturale. Un film che in termini di CGI profuso e di adrenalina mantiene le promesse: occorre accontentarsi di questo, senza cercare l'epica di un'opera sui livelli della succitata saga di Tsui Hark o un affresco storico credibile. In chiave di puro film di arti marziali, B&A svolge ampiamente il suo dovere.
« Pochi Dollari per Django – dvdrip ita Giallo Napoletano – dvdrip ita »