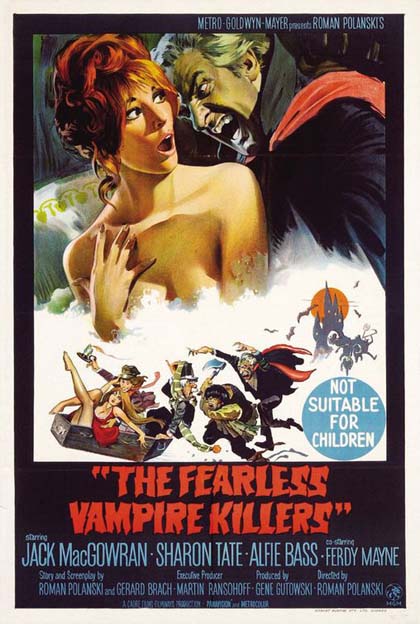 Un film di Roman Polanski. Con Alfie Bass, Sharon Tate, Roman Polanski, Terry Downes, Jack MacGowran Titolo originale The Fearless Vampire Killers. Commedia, b/n durata 98 min. – Gran Bretagna, USA 1967. MYMONETRO Per favore… non mordermi sul collo!





valutazione media: 3,33 su 21 recensioni di critica, pubblico e dizionari.
L'eccentrico professor Abronsius (Jack Mac Gowran), autore di importanti studi sul fenomeno del vampirismo, arriva con il suo buffo e svanito assistente Alfred (Roman Polanski) nei pressi di un castello in Transilvania: naturalmente a caccia di vampiri. Una volta penetrati all'interno, Alfred nota ben presto la bella locandiera Sarah (Sharon Tate, allora compagna di Polanski), e quando questa verrà rapita dal conte von Kroloc, i due partiranno per portarla in salvo tra mille peripezie.
Nonostante la trama possa trarre in inganno, fin dal titolo italiano del film (che è conosciuto anche come Dance of the Vampires, Pardon Me, Your Teeth Are in My Neck) si comprendono le intenzioni del regista, non certo interessato a realizzare un horror, ma nemmeno una vera e propria parodia del genere. Per favore… non mordermi sul collo vive del brillante umorismo ebreo-polacco del suo autore, riuscendo a bilanciare con equilibrio parodia, citazioni filologiche e tensione autentica per dare vita a qualcosa di completamente nuovo. Un qualcosa che lo ha reso capostipite di una serie di parodie farsesche e dissacranti intese a esorcizzare con acume e ironia figure mitiche ed eroiche della tradizione. È dal professor Abronsius e Alfred che derivano allora il dottor Frederick Frankenst(e)in e Igor del Frankenstein Junior di Mel Brooks. Ricco di trovate brillanti e comiche (come ad esempio il figlio del conte, vampiro omosessuale invaghito di Alfred) Per favore… non mordermi sul collo è la prima commedia, il primo film a colori e girato con notevoli capitali (americani) per il trentatreenne Polanski, in questa occasione anche di fronte alla macchina da presa insieme alla sua compagna Sharon Tate (tre anni prima della terribile strage ad opera della banda di Manson). Accompagnato – come tutte le prime opere del regista – dalle musiche del polacco Krysztof Komeda, il film è stato portato sui palcoscenici di Vienna dieci anni dopo in una versione teatrale diretta dallo stesso Polanski.
« Detour – Deviazione per l'Inferno – dvdrip ita/eng La Passione di Giovanna D'Arco – 1928 – dvdrip muto »