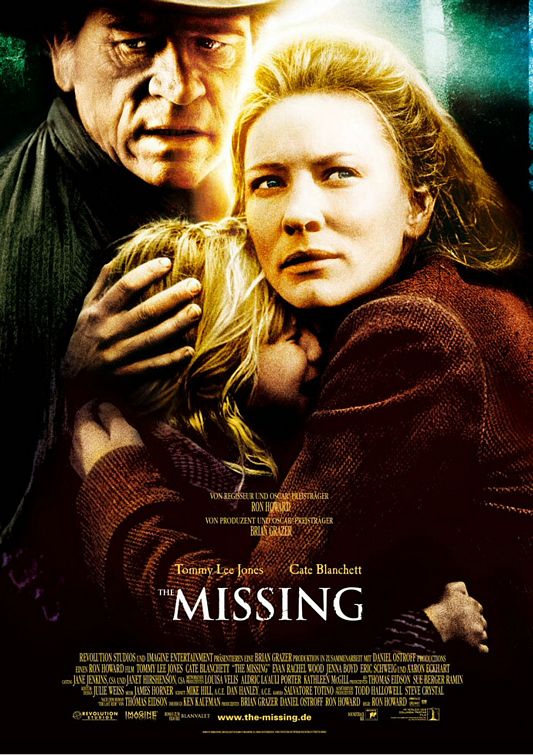 Un film di Ron Howard. Con Tommy Lee Jones, Cate Blanchett, Evan Rachel Wood, Jenna Boyd, Aaron Eckhart. Titolo originale The Missing. Drammatico, durata 137 min. – USA 2003. MYMONETRO The Missing





valutazione media: 3,33 su 12 recensioni di critica, pubblico e dizionari.
West degli Stati Uniti. Samuel ha lasciato la sua famiglia da vent`anni per vivere con gli indiani. Ora desidera riconciliarsi con la figlia che è diventata una contadina e ha una sua famiglia. La donna lo respinge ma quando uno dei suoi figli diviene succube di uno stregone indiano scopre di avere bisogno del padre. Samuel mette a disposizione le sue conoscenze e cerca, al contempo, di aiutare figlia e nipote. Ron Howard, dopo A Beautiful Mind, si lascia tentare dal western o, meglio, da quel filone del genere che vede come protagonisti dei bianchi integrati nelle comunità dei nativi. Lo fa con un Tommy Lee Jones sempre piu` istrionico e con una filosofia di fondo che lasciamo al vostro giudizio: chi ha scelto la diversità può essere compreso solo se aiuta a combattere i diversi come lui che sono "cattivi". Ogni richiamo al presente e alla base di Guantanamo sembrerebbe non essere casuale. Ancora una volta il cinema di genere offre un`occasione per leggere "oltre" svelando la sua funzione che va al di là del semplice entertainment.
« Bella di Giorno – Belle de jour – bdrip 720p ita/fra subita/eng Documentari vari »